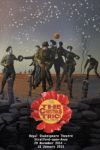 The Christmas Truce
- Royal Shakespeare Theatre
Ispirato da fatti realmente accaduti esattamente 100 anni fa, The Christmas Truce celebra un'ammirevole storia di Natale avvenuta durante la Prima Guerra Mondiale.

Dicmebre 1914. Mentre le famiglie di tutta Europa si riuniscono per celebrare il Natale, una generazione di giovani uomini si trova a dover combattere nelle trincee del fronte Ovest, lontana da casa e dai propri cari. Lì, questi giovani uomini affrontano un mondo sempre più lontano dalla pace e da ogni buon proposito. Ma alla vigilia di Natale 1914, mentre gli uomini del Warwickshire Regiment sono al riparo nelle loro trincee, qualcosa di stupefacente accade.

Dalla terra di nessuno, tra le due frontiere, proviene della musica. I soldati tedeschi stanno cantando canzoni di Natale; le stesse canzoni che le famiglie dei soldati inglesi stanno ascoltando a centinaia di km di distanza a Birmingham, Warwick, Stratford-upon-Avon. Lasciando le loro trincee, armati solo del loro coraggio e della loro umanità, vanno ad incontrare i loro nemici; non per combattere, ma per parlare, per scambiarsi doni, per festeggiare il Natale. Ed il giorno dopo, insieme, programmano un'indimenticabile partita di calcio.

Ti preghiamo di notare che questo spettacolo è a Stratford-upon-Avon,a circa due ore di treno da Londra.

Informazioni luogo
Informazioni show
Prenota da
2014-12-10
Fine dispon.
2015-01-31
Durata:

Indicazioni

Please note that this play is in Stratford-upon-Avon, an. approx. two-hour train ride from London.

Guarda la mappa